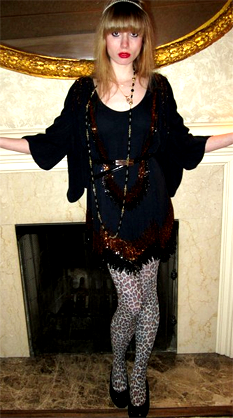 This style has been handed down from the 20s, and it's become very noir. I consider it really romantic and prefer a drapey, unbelted look. These dresses are unbelievable hard to find on the internet, if only because they vary in what they're called by each designer, brand, or store. I think a common phrase by dressmakers would be batwing, but other terms to search for would be
dolman sleeve, drop sleeve, oversized dress, drape dress,
or
kaftan
(
caftan
). I got one of these from Express a few years back, but it was eaten by moths at my old apartment! I've learned since to put all my wool in baggies.
The next three are sheer or bathing suit covers, but they would definitely work with a slip underneath for day wear.
This is a beautiful look nearly anyone can pull off. All body shapes work in it and to me it's a classic look, it takes you to a mysterious, gothic place, and it will always make you feel sexy.
Thank you to Becca for letting me use her picture! Make sure to visit her blog,
Fashion She Says
!